Leading Through Change Graduate Badge
Leading Through Change
Graduate Badge
Course Delivery
On Campus, Online, Hybrid
About the Program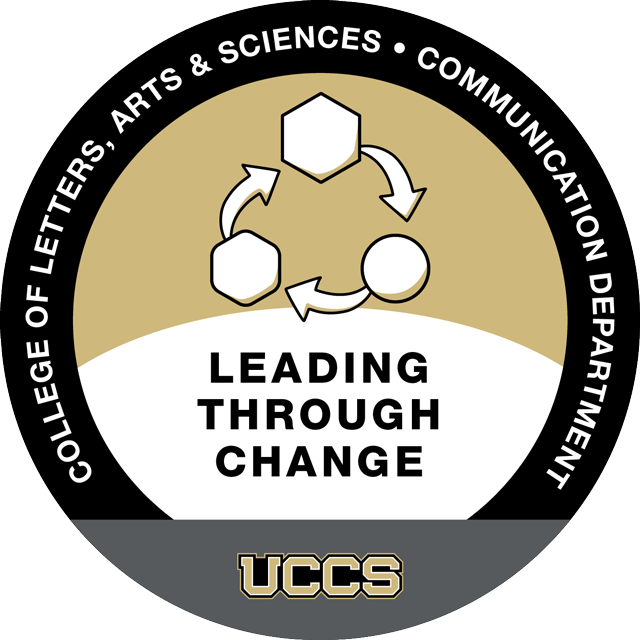 The Leading Through Change graduate badge empowers individuals to expertly navigate communication challenges when driving change within their teams and organizations. Whether it's managing virtual and inclusive communication or building teams that can thrive in times of change, this program equips leaders with the skills they need to succeed. By earning this badge, you'll unlock opportunities to advance your career, enhance your team's performance, assess change needs, and create agile, resilient organizations.
Keywords: Leadership, change management, change communication, negotiation and power, strategic change, workplace diversity, inclusive workplace
Positions: Program Manager/Coordinator (University of Colorado); Crisis Communications Manager (University of California Davis); Coordinator of Diversity and Inclusion: (Colorado State University); Learning and Development manager: (Sierra Nevada Corporation); Organizational Change Manager (Ardent Mills).
---
Focus of Study
Courses included in this micro credential will provide students with the essential skills to demonstrate leadership across a wide spectrum of roles and responsibilities. Depending on course choice, topics covered may include leading through change and innovation, crisis management, training and development, culture and diversity, conflict and negotiation, strategic storytelling, communication tactics and managing virtual teams.
Participants will learn how to:
Develop skills to effectively lead and manage organizational change and foster innovation.
Acquire knowledge and strategies for crisis management and building organizational resilience.
Enhance capabilities in training and development to drive leadership success and growth.
Understand the relationship between leadership, organizational culture, and diversity, and leverage these elements for organizational effectiveness.
Develop emotional intelligence skills to manage conflicts and negotiations with empathy and effectiveness.
Apply storytelling techniques and virtual team management strategies to drive strategic leadership in the digital age
---
Program Requirements
Expected Program Entry Competencies
College level writing ability, beginning experience with recording software and associated technology.
Expected Program Exit Competencies
Ability to:
1) Design, plan and implement change initiatives.
2) Create, support, and maintain inclusive and diverse work teams.
3) Manage change communication campaigns for external stakeholders.
4) Lead virtual teams to success by effectively navigating technology-mediated environment.
---
Program Coursework
CHANGE COMMUNICATION (choose 2)
COMM 5950 - Leadership and Organizational Change
A dynamic and practical class offering assessment activities and dialogues focusing on the demands that the current environment of change and innovation place on organizational leadership. The course equips students with knowledge of the key steps and models of the change process and enables students to evaluate the outcomes and effectiveness of change leadership.
COMM 5230 - Crisis Communication
Emphasizing the role of communication in organizations, we will use a proactive three-stage approach to crisis management: pre-crisis, crisis, and post-crisis. You will learn to: Scan the environment for potential threats to an organization; Diagnose an organization's vulnerabilities; Understand different kinds of crises, such as natural disasters, biological crises, product recalls, technological crises, malevolence, sexual harassment, and workplace violence crises; Prevent crisis by detecting warning signs and selecting an appropriate course of action; Use theories (e.g., the situational crisis communication theory, the theory of image restoration discourse) and strategies to develop solutions in the event of a crisis; Evaluate the effectiveness of possible solutions; Plan solution implementation; Plan post-crisis evaluation procedures. Meets with COMM 4230.
COMM 6160 - Creating a Learning Organization
This practical course focuses on personal and professional development as individuals and groups contribute to organizational productivity and success. You will be introduced to the interrelated fields of training and development, talent acquisition, and reskilling, upskilling, and next-skilling as fundamental components of organizational culture and change management. Meets with COMM 4160.
INCLUSIVE COMMUNICATION (choose 1)
COMM 5770 - Leadership Communication in a Global Environment
You will explore leaders' responsibilities, challenges facing leaders in a global context, and the relationship between leadership and culture. The course focuses on many questions vital to organizational success: What does it mean to be a competent cosmopolitan leader? How do we manage intercultural conflict? What cross-cultural considerations should we take into account to promote innovation, creativity, and change? What is the role of technology in the globally connected workplace? etc. Meets with COMM 4770.
COMM 5280 - Multicultural Diversity and Workplace Communication
In the contemporary networked and globalized economy, workforces in the U.S. are becoming ever more diverse in their backgrounds, experiences, and perspectives. While workforce diversity can serve as a catalyst for innovation, learning, and effectiveness at both individual and organizational levels, when misunderstood or mismanaged, it can challenge employee relationships, performance, and team effectiveness. This course is designed to help students better understand the multi-dimensionality of workforce diversity, identify challenges to diversity management, and learn how to develop an inclusive environment in the workplace. Class materials and activities focus on contemporary theories and research on diversity management, their applications to real-life scenarios, case studies, and self-reflections on diversity management at work.
COMM 5250 - Conflict and Negotiation
This dynamic course focuses on the human side of organizations and the emotional intelligence required to work together productively. You will learn about the nature of conflict, interests and goals, power, emotions and emotional well-being, and the principles of negotiation required to work through organizational resistance toward transformational change. (Meets with COMM 4250)
VIRTUAL AND DIGITAL COMMUNICATION (choose 1)
COMM 5600 - Virtual Teams
Teams are primary work units in many contemporary organizations. Organizations rely on teams, as opposed to single individuals, when it comes to complex problem solving and decision making. Therefore, teamwork skills are becoming ever more crucial competencies to be successful in organizational life. With growing multi-national operations and recent advances in communication technologies, teams whose members are geographically dispersed and culturally and nationally diverse are no longer a rarity. Such teams operating in virtual context face unique challenges when collaborating with members across temporal and geographic borders. This course addresses how team processes in virtual contexts are different from those in face-to-face settings and what it takes to become a successful leader and a member of a virtual team. Class materials focus on various theories and research, case studies, simulations, and their applications to real-life virtual teams.
COMM 5350 - Integrated Marketing Communication
This course provides you with the knowledge and skills to create holistic and integrated strategic communication and brand campaigns by focusing on strategies used in contemporary organizational practices. The course highlights diverse communication tactics and mediums including traditional and social media advertising, public relations, and digital communication. This course is excellent for anyone interested in creating and evaluating effective communication campaigns that span the entirety of an organization, from internal stakeholders such as employees to local and global external audiences.
COMM 6250 - Storytelling for Strategic Leadership
This course empowers you to craft impactful communication using the principles of storytelling. Whether it is to communicate a leadership vision, philosophy or values, or tell the story behind new initiatives or an organizational mission, understanding how stories are structured is a key leadership skill. You will learn, analyze, and apply storytelling communication best practices in crafting effective leadership communication across multiple domains. The course spans the areas of public speaking, leadership, organizational and strategic communication, offering you the ability to both understand and practice what effective storytelling looks like for different audiences and contexts.
Top