Digital Storytelling Designer Undergraduate Badge
Digital Storytelling Designer
Undergraduate Badge
Course Delivery
On Campus, Online, Hybrid
About the Program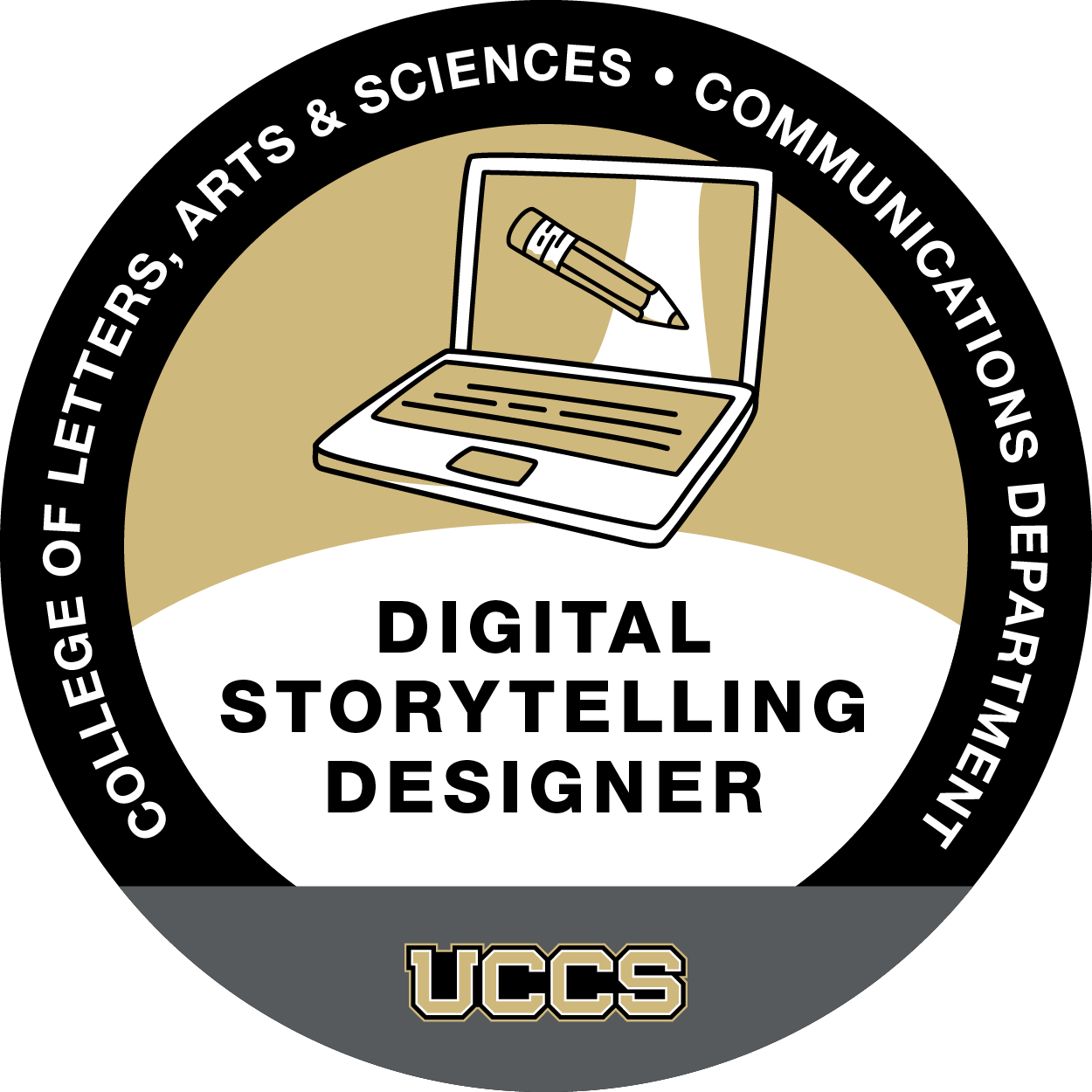 The Digital Storytelling Designer badge will strengthen writing and speaking skills to enhance organizational goals, develop client presentations demonstrating a clear vision, capture brand style and more.
Recent open positions: Microsoft - Customer Storytelling team; Disney - Storytelling Designer; Under Armour – Lead Storytelling for Global Communication.
---
Focus of Study
Courses included in this micro credential will provide students with the essential skills needed to craft compelling narratives in the digital realm. Topics covered include storytelling principles, structuring narratives for different platforms, creating engaging introductions and conclusions, and incorporating persuasive elements into written content.
Participants will learn how to:
Adapt their writing style to capture the attention of their target audience and effectively convey their organization's message.
Effectively utilize storytelling techniques in spoken presentations to make content more engaging and memorable.
Develop narratives that align with an organization's brand identity, values, and messaging.
---
Program Requirements
Expected Program Entry Competencies - college level writing ability, beginning experience with recording software and associated technology
Expected Program Exit Competencies – Ability to:
Develop content for multiple audiences and media channels
Create and present a well-organized and engaging presentation (live or recorded)
Use technology tools (podcast, blogs, website builder, Adobe Creative Suite, Canva, etc.) appropriately to reach diverse audiences
---
Program Coursework
WRITTEN COMMUNICATION (choose 2)
COMM 2900 - Writing for the Media
Fundamentals of news gathering and writing, news story forms.
COMM 3240 - Business and Professional Communication
Theory and practice in oral and written communication competency for business and the professions. Topics include presentational speaking, business and proposal writing, interpersonal communication in organizations, and communication trends in business organizations of the future. Approved for LAS Oral Communication requirement. Approved for Compass Curriculum requirement: Navigate; Writing Intensive. Prer., ENGL 1305, 1308, or 1310 and ENGL 1410.
COMM 3800 - Strategic Communication Writing
This writing-intensive course considers the tactical and strategic elements necessary for any public relations tool to be successfully developed and distributed to a target public. Students will learn techniques for media relations and skills for developing controlled tactics. Prer., COMM 2900 and COMM 3200 or consent of instructor.
ORAL COMMUNICATION (choose 1)

COMM 3190 - Professional Public Speaking
Students will develop confidence, understanding, and skills related to appropriate and effective public speaking in digital/online environments across life, career, and professional contexts. Approved for LAS Oral Communication area requirement. Prer., Sophomore standing or higher.
COMM 4190 - Advanced Professional Public Speaking
In this advanced public speaking course, students develop confidence, understanding, and skills related to speaking publicly, using technology to deliver presentations to professional and geo-dispersed digital and online audiences.
DESIGN (choose 1)

COMM 3400 - Digital Communication Technology
Introduces students to digital tools available to disseminate messages. Students use advanced features of presentation software, create a business card that reflects their "brand," and create a final "personal project" to engage in social news spaces. Approved for Compass Curriculum requirement: Explore-Society, Health and Behavior. Prer., COMM 1000.
TCID/INDS 3650 - Data Visualization
This course is about turning data into graphics: how to design and create data visualizations. Students will learn to evaluate the effectiveness of visualization designs, think critically about each design decision and create their own data visualizations. Prer., TCID 2080 or TCID 2090; Sophomore Standing. Meets with INDS 3650.
VIDEO (choose 1)

COMM 3470 - Interactive Digital Media
This course teaches Interactive Digital Media as a means for storytelling as it relates to social media, web, broadcast, podcast, live streaming and various storytelling platforms using select titles in the Adobe Creative Suite. Prer., Students must have completed 45 credits or have instructor approval.
COMM 4900 - Special Topics
Advanced exploration of timely topics and issues related to communication in various contexts. Topics vary from semester to semester. May be taken up to two times for credit with permission of department chair. Prer., Varies from topic to topic.
Top