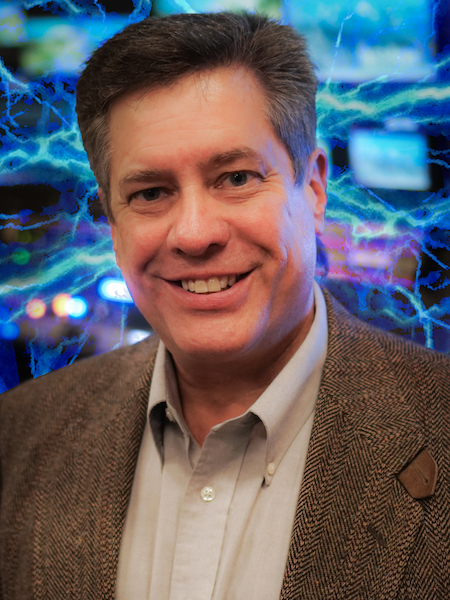 Department of Communication
Highlights
I'm currently the Marketing & Public Relations Manager at Cave of the Winds Mountain Park, in charge of our advertising, website and social media.
I also own Spot On Productions, a multimedia company, since I stepped out of the corporate television broadcasting world in April 2012 where I was the Production / Operations Manager & Executive Producer at KXRM / KXTU-TV (FOX 21 / CW 57) from 8/1996 till 4/2012 and the same before that at KOAA-TV (NBC) in Colorado Springs from 3/1989-9/1996. I've worked in broadcast television and electronic media since 1984, from West Palm Beach to L.A. I do a lot of everything media plus shoot the Pikes Peak Auto Hill Climb on a RED for ESPN, and technical direct numerous multi-camera concerts throughout the year at the Pikes Peak Center to name a few. I am actively involved with the writing, producing, directing, videography, editing, and graphics of daily advertising commercials, web, social media videos, and more. I've worked for all the major broadcasting networks from camera operator and lighting director to video editor, graphics designer to writer, Producer, Creative Director, and Executive Producer. I've also been camera operator, Director of Photography, and Line Producer for documentaries shot in Europe, Asia, and across America. I've received numerous local, regional, and national awards for documentaries, commercials, sports programs, videography, still photography, and writing.
I truly enjoy teaching and imparting the best of my knowledge and media information to upcoming students in the industry. I graduated from UCCS where I received two degrees, a B.A. in Communication and a B.A. in Psychology. I've been teaching since 1995. I've taught studio production, editing, field production; developed, written, and implemented classes on Camera, Composition & Lighting; and multimedia, graphics and design; have taught management & marketing classes, and I also currently teach Interactive Digital Media and Storytelling at UCCS as well as Introduction to Multimedia and Digital Editing at PPSC.
I also founded and run the award-winning and clean "Whose Line is it Anyway" Improv group, Oxymorons Comedy, and perform Stand Up comedy. My students get to hear weekly comedy FREE as a value added part of the course!
I hold a high bar of quality and expectation, but am also one the most fun and coolest teachers in the field.